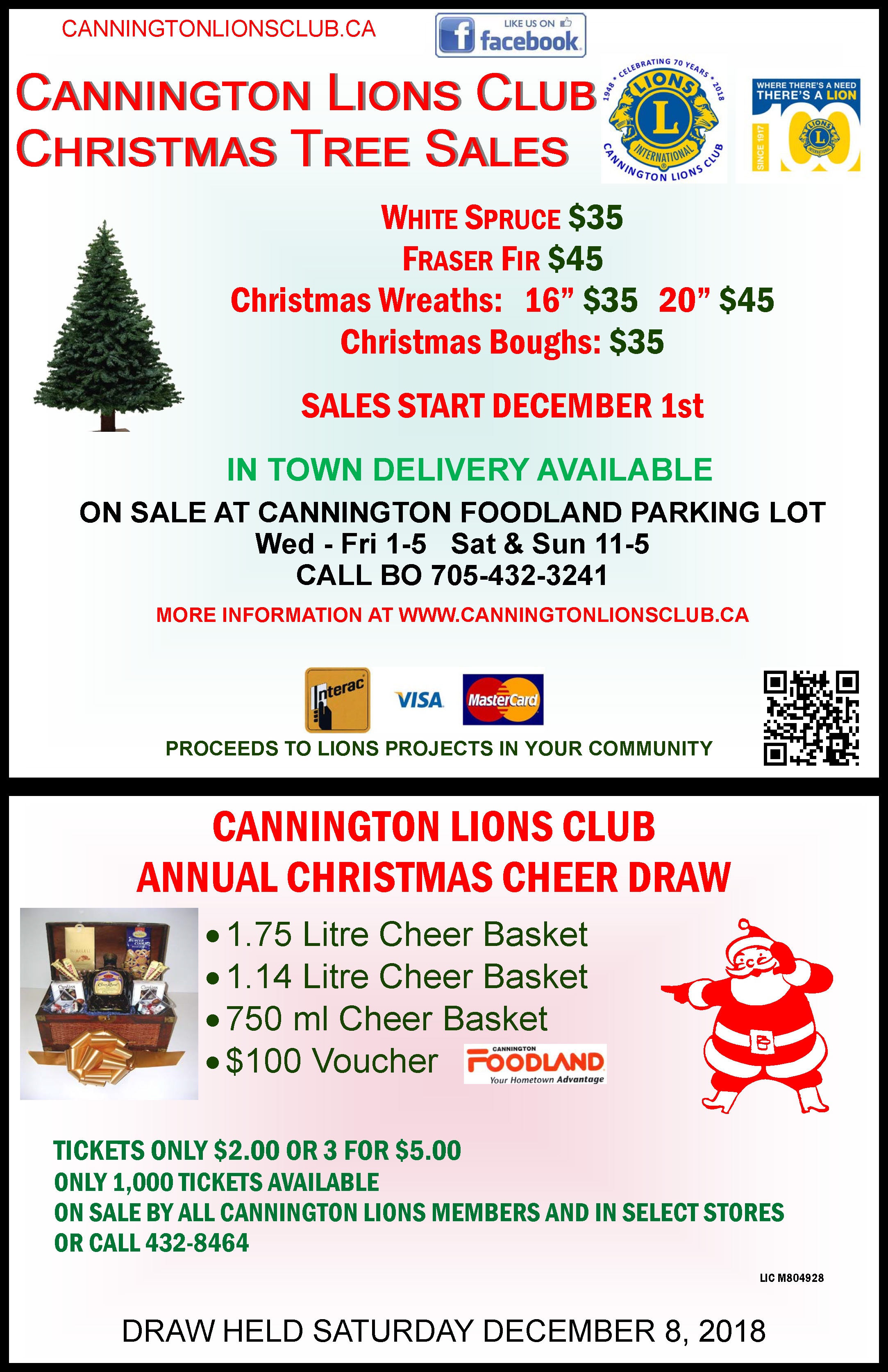 Lions Christmas Tree Sales Start December 1st
Great selection of trees, wreaths, and boughs
For full details check out our tree page
2018 Christmas Cheer Draw
Cannington Lions' annual Christmas Cheer Draw tickets now on sale!

Proceeds go toward Cannington Lions Club community service and projects
Price: $2.00 or three tickets for $5.00
Draw Date: Saturday December 8
Prizes include:
- Christmas Cheer gift basket containing goodies and 750ml Crown Royal
- Christmas Cheer gift basket containing goodies and 1.14L Crown Royal
- Christmas Cheer gift basket containing goodies and 1.75L Crown Royal
- $100.00 Sobey's Gift Card (good for use at Foodland and other participating grocery stores)

Winners awarded by random drawing of tickets. No cash value awarded in place of prizes. Estimated prize value $400.00

Tickets available from any Cannington Lions Club member

To obtain a ticket you may also contact us:
email: treasurer@canningtonlionsclub.ca
phone: 705-432-8464 (and ask for Lion Walter)
Tickets may be available in select Cannington retail locations. Stay tuned here for details.
Thank you for your support and good luck!
Cannington Lions Club's 71st Annual Santa Claus Parade
Special thank you to everyone who helped make our 2018 Santa Claus Parade a successful one! Thanks to everyone who entered a float, to the McCaskill's Mills School band and the Sunderland School band, the wonderful volunteers, The Legion, Campbell's TV and Appliance, Durham Regional Police, Cannington Firefighters Association, our various parade sponsors, and of course Santa and Mrs. Claus. We also want to thank the many people who came down to watch the parade and visit with Santa afterward. Thank you and we'll see you next year. Merry Christmas!
Thank you to our sponsors who help cover the costs of the parade:
Canada Protection Plan Inc.
Brelmar Veterinary Clinic
Brock-Simcoe Accounting Professional Corporation
Cannington Veterinary Services
Hudson Insurance Brokers
Sunderland Agricultural Society
Brown & Brethour Insurance
Wild Garden
Shawn McNamara Law
Paul Grills

Photos by Adeline Khoo Pettit
Thank you for all of the donations of scrap metal and e-waste
The Cannington Lions Club collects scrap metal all year long.
Canada Day Citizen of The Year 2018
Congratulations to Lisa Schummer The Cannington Lions Club's Canada Day Citizen of The Year 2018!